"Ice cream makes people happy," says Katya d'Angelo, the owner of The Udder Guys ice cream tricycle. Speaking from (lots of of) personal experience, I can't argue with that statement.
The Udder Guys, based in Waterbury, serves up premium, all-natural ice cream at weddings and events around the area. Katya sat down with Vermont Weddings to share more about her unique "dessert experience" that she says is her way to "bring a little bit of happiness to the world!"
How did you get into an ice cream catering business?
My first job at 14 was at my hometown's local ice cream shop, and I continued to worked there through college when I was home for the summer.
I started The Udder Guys after moving to Waterbury and discovering there was no place to get a scoop of ice cream in the village on a hot summer day. I chose a tricycle over a shop because it allows me to be mobile and I can operate it in addition to my full-time job. Plus, it's just plain fun to ride!
In my second year, I branched out to private events, which has been so much fun. It's been great to bring a little whimsy to these weddings, rehearsal dinners, and other celebrations.
What is unique about The Udder Guys?
Having the tricycle at your event is more than offering your guests something sweet, it's offering your guests a dessert experience. The vintage vibe harkens back to a different era, and allowing guests a variety of flavor options is always appreciated. Depending on your event, it works great as an addition to a traditional cake or as the stand-alone dessert.
Which areas do you service?
I travel within a 90-minute radius of Waterbury, which covers quite a bit of territory, from Killington to Lake Willoughby and from over the NH border to the Champlain Islands.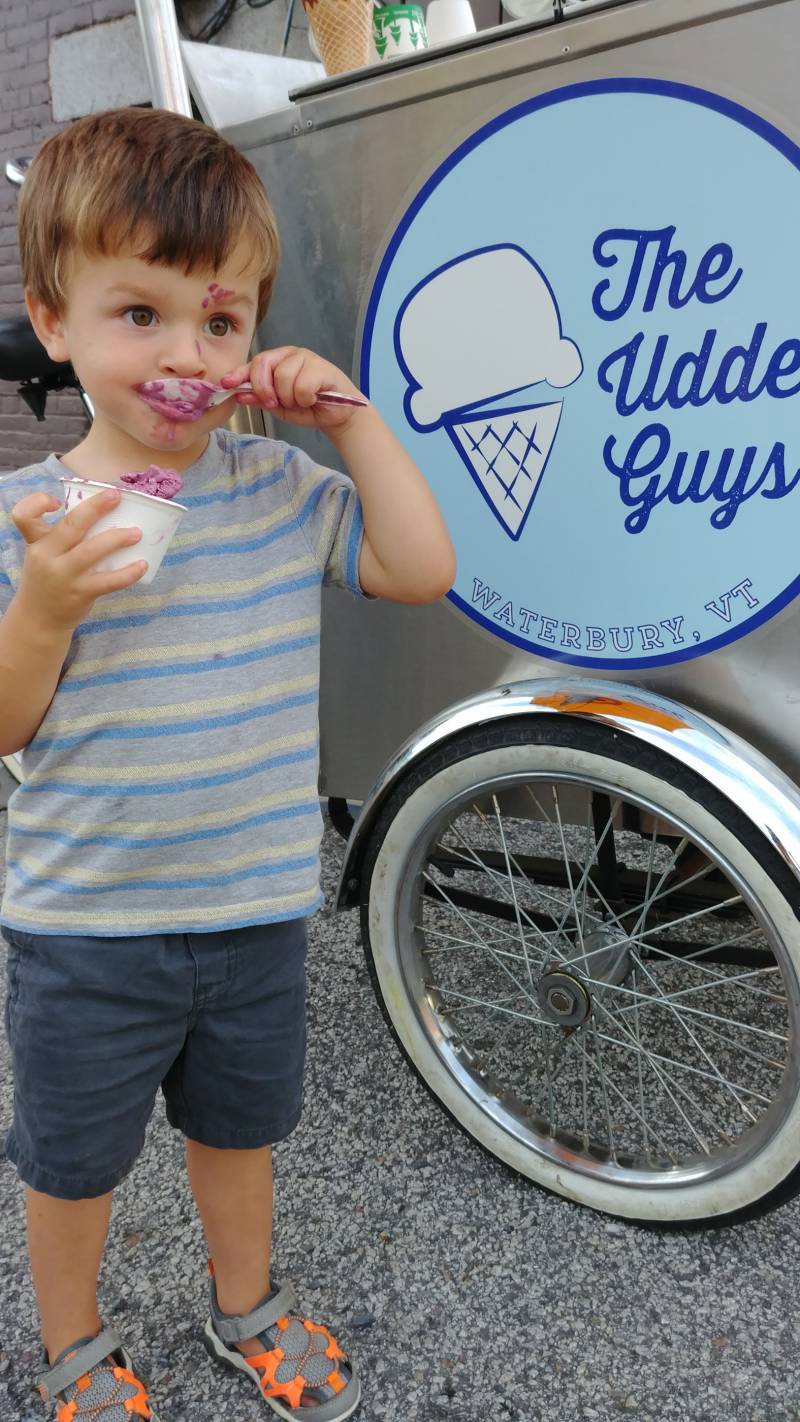 What's your favorite thing to do in Vermont?
My husband and I came to Vermont after several years living in the Boston suburbs. We kept coming to VT to visit friends, and about five years ago, we just realized we that Vermont felt like where we were supposed to be.
In the fall, I look forward to sitting around the backyard fire pit on cool evenings. In the winter, I often start my day with Nordic skiing at the Trapp Family Lodge. In the spring, I love watching the color and new growth return to the landscape. In the summer, I like to take my dog, Ralph for hikes, and eat ice cream (of course!).
What's your favorite moment during a wedding?
I love the speeches and toasts. As a guest at a wedding, it's always fun to hear anecdotes and relive old memories or inside jokes, and as a vendor, it's lovely to learn a bit more about the two people we're celebrating.
Do you have a favorite flavor?
Can I say all of them?! If I had to choose, I'd pick two: Chocolate Peanut Butter and the Barkeater, which is a vanilla ie cream with Heath Bar Crunch-like bits. I often have them both together!
Thank you, Katya! Learn more about The Udder Guys on their profile page.