One look at Andrea and Lars's wedding and it's obvious they are beloved by their community. Every aspect of their weekend was an opportunity to celebrate with loved ones. What you wouldn't know is that their wedding date (August 4, 2018) is a personal favorite - it's also my anniversary! I can't help feeling smitten with this wedding, and after seeing it, I think you'll feel the same!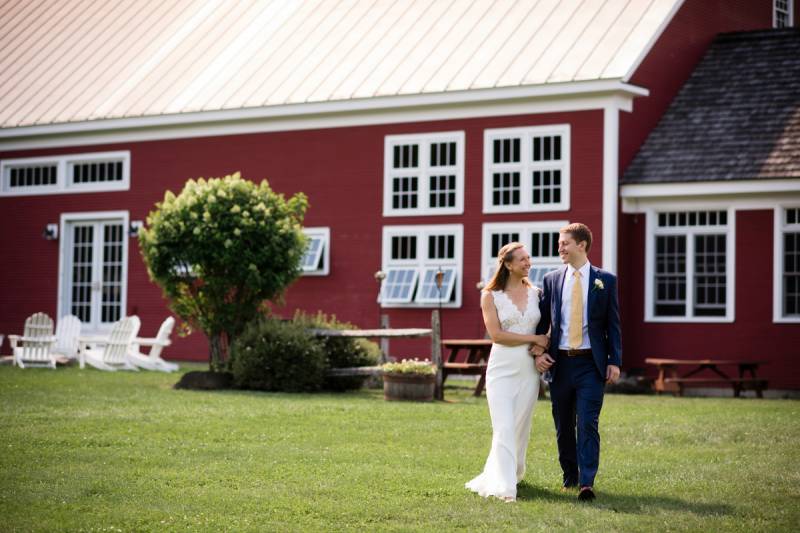 Andrea and Lars tied the knot at the charming Riverside Farm in Pittsfield. The couple planned an activity-filled weekend to maximize their time with guests. They kicked off the festivities Friday night with a dinner featuring open-mic toasts from loved ones, and organized a trail run and float along the White River Saturday morning.
The details of the day came together with the help of family and friends as well. Andrea's bouquet, featuring her favorite sunflowers, was lovingly assembled by her best friend from college.
Minutes before the couple walked down the aisle the skies opened up, presenting a problem for the planned outdoor ceremony. Guests sprang into action, bringing in chairs and decorations to pull off a last minute venue switch. "It was beautiful, a bit improvised, and perfect," says Andrea.
A close friend officiated the intimate ceremony (his smile!), and other friends performed readings and a specially-arranged version of Ingrid Michaelson's "The Way I Am."
While being with friends and family was their top priority, the couple did steal away for a quiet, private moment. The mountains play a special role in the couple's love story: their first date was at Acadia National Park, and they returned three years later for a mountaintop engagement.
The reception barn had been lovingly decorated by the couple and their loved ones. Yellow and purple flowers, set upon lace runners, echoed the bride's bouquet, and candles made the rustic venue twinkle.
The outpouring of love for the couple was evident throughout the evening as they danced the night away. Andrea and Lars admit the celebrations continued long into the night at the Clear River Tavern after the "official" sparkler exit!
Their advice to other couples sums up their wedding vibe: Focus on the things - and people - that really matter to you, and let go of the rest. Congratulations, Andrea & Lars!