One of the biggest trends in weddings right now is, ironically, small. Vermont officiant Carmen George says micro weddings are an increasingly popular option in Vermont. She officiated over 200 weddings last year, and estimates about half of those were micro weddings.
She's seen a rise in requests from couples across all demographics, including young couples on a tight budget, to mature couples who may be celebrating a second marriage.
What's the impetus behind the tiny trend? Read on to learn about the benefits of a micro wedding to see if it's right for you.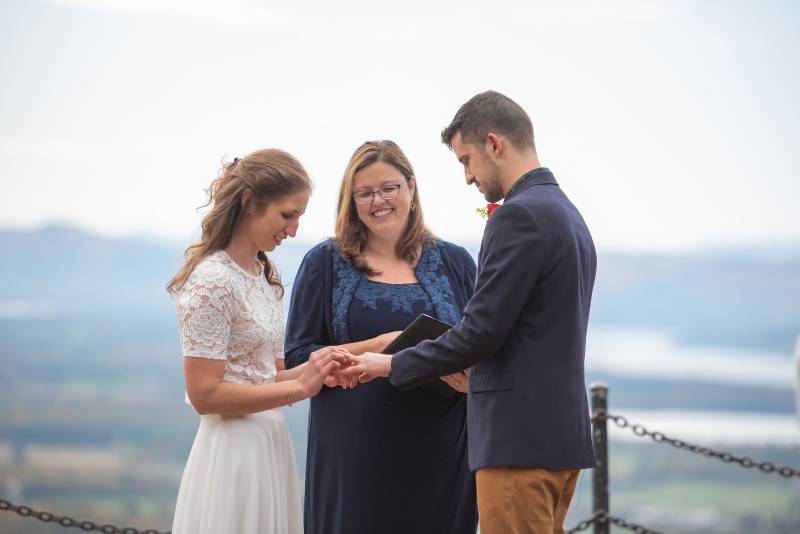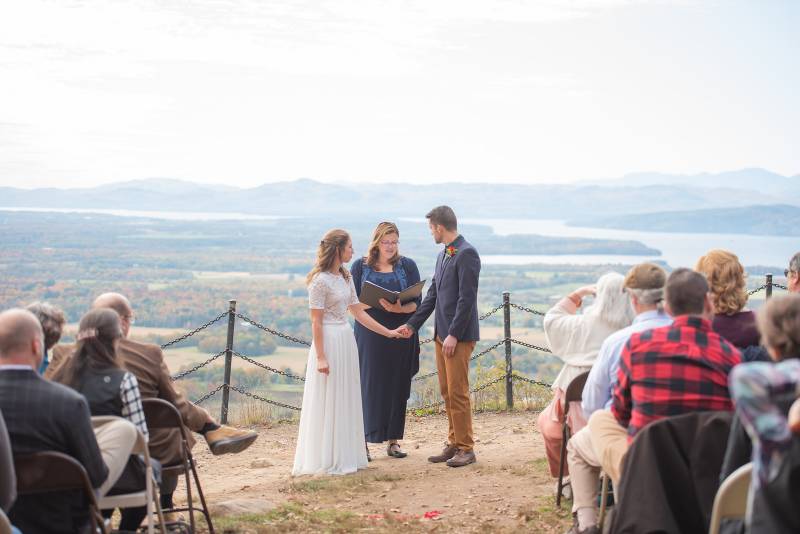 First, what is a micro wedding and how is it different than a small wedding or an elopement? Traditionally, elopements are only attended by an officiant (and perhaps a photographer) in addition to the couple.
Small weddings and micro weddings differ in terms of the number of guests. "Micro weddings are typically around ten people, but I would say it can be up to as many as twenty," says Carmen. "Once it goes above that, I'd consider it a small wedding."
With a smaller guest list, couples have more time to visit with each attendee. The wedding can be a really special bonding experience for you and the people with whom you've chosen to celebrate.
Micro weddings are often simpler than traditional weddings, which presents some benefits to a couple.
Undeniably, one of the biggest appeals of a micro wedding is the cost savings. A smaller guest list simply means it's easier to contain costs, especially for space rental and catering.
Carmen also notes that it's often much faster to plan a micro wedding. "Reserving a location for the ceremony and reception is much easier, and can often be planned within a few weeks, rather than months out," explains Carmen. And, if couples are opting to keep things casual, they may opt for fewer details like decorations, resulting even fewer decisions and more savings.
It's also worth noting that many venues vendors now offer special packages for micro weddings to help couples make the process even easier and more special. For example, Carmen offers officiating services, photography and floral design.
However, just because couples opt to have a micro wedding doesn't mean they can't enjoy many of the aspects of more traditional weddings! In fact, a micro wedding allows couples to splurge on what matters most to them. For example, "I've seen couples use the money they saved elsewhere to rent out an inn so guests can celebrate for the whole weekend," says Carmen.
Couples may decide to lavish guests with a gourmet dinner, wear a glamorous dress, or hire a live musician to play during their ceremony and reception. Micro weddings allow couples to prioritize their budget for what they value most.
Having a clear vision of what's important to you as a couple is key to planning a wedding of any size. Here are some questions to discuss if you're considering a micro wedding:
Would you feel most comfortable being just the two of you, or would you prefer to be accompanied by family and/or friends?
How many people would you ideally like there?
Would you miss any aspects of a traditional wedding? Can these be incorporated into a micro wedding?
No matter the size of a wedding, it should be a reflection of the couple. For some, large weddings are the perfect way to celebrate the milestone, and for others, a micro wedding best reflects a couple's needs and values.
Want to get started planning your wedding? Learn more about Carmen.