For many of us, our dogs are more than pets; they're our fur babies. It's no surprise then, that many couples want to celebrate with their pup on their wedding day.
"Dogs are basically family members for many of our couples, so we love to include them in wedding photos!" says Megan Hannah of Hannah Photography.
Here are some inspiration and tips for how to include your dog in your big day.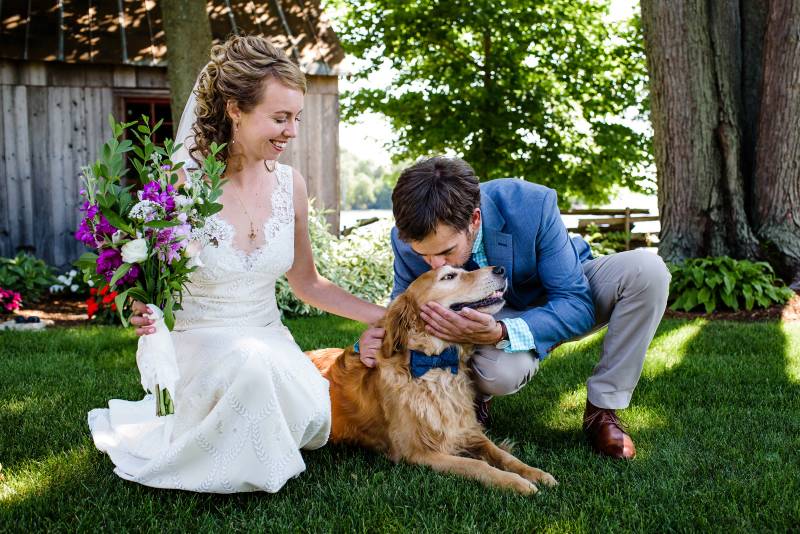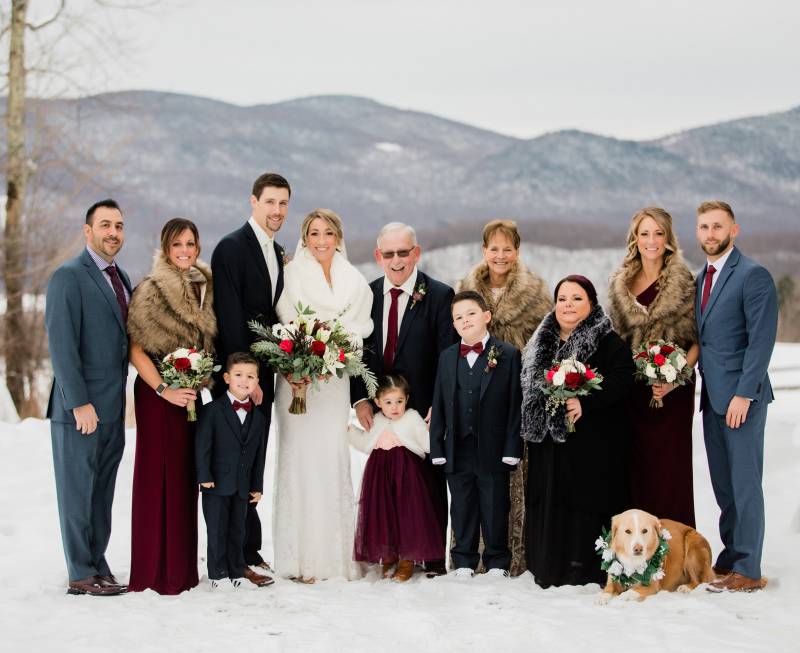 First, consider your dog's personality. "You know your dog best," says Megan. "Do they do well in crowds and enjoy being around a lot of new people? If not, maybe walking down the aisle is too much for them. Instead, take photos with them before the ceremony."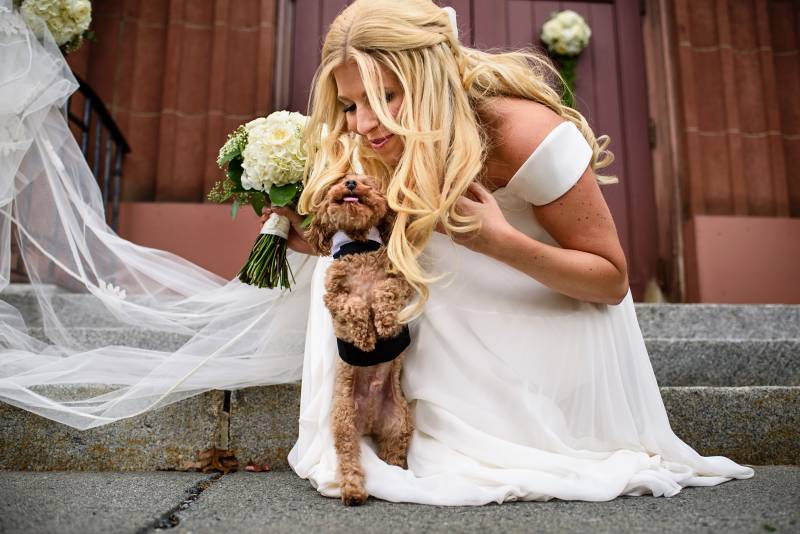 Katye, one half of The Happy Couple Photography, shares, "In the case of our own wedding, it was HOT, and our dog was not impressed with the unfamiliar surroundings and a crowd of people." In her professional experience, she says she's found dogs often "turn into introverts at weddings. They care about their people; not so much their people's people."
It's important to plan for a quiet place for your dog to relax between photos or during the ceremony in case the excitement of the day is too much. "The best case scenario is that your dog is gregarious and social - but not TOO social." (You don't want your dog jumping on grandma and covering her dress in muddy paws!)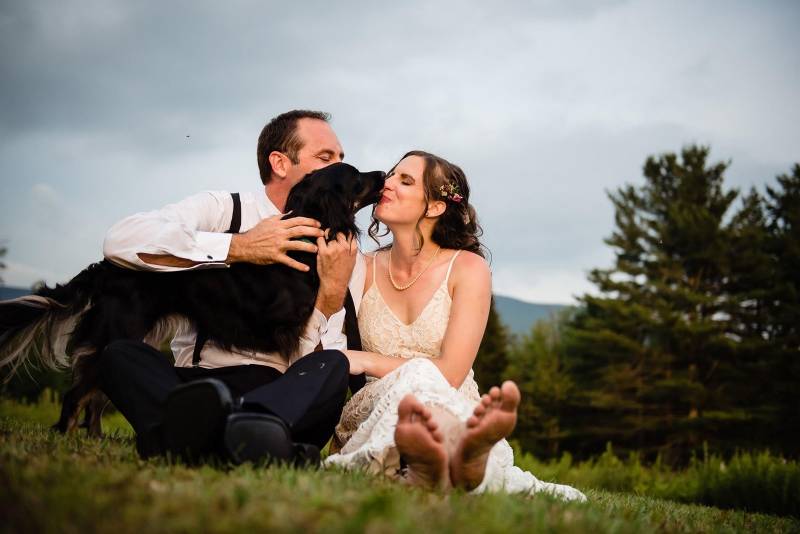 All of the photographers agree that the #1 tip for couple is to assign someone to be in charge of the dog.
"If you want to have your fur babies included in wedding, designate someone to come along and be on dog duty," says photographer Danielle Allendorf. "It will take the stress away from you."
Your dog should be familiar with their handler, and this person should be able to bring the dog to and from the venue for photos, or check in with them throughout the evening. So, don't pick someone who you'll need by your side or who doesn't have access to a vehicle.
Want to make sure you get a good shot of your dog? "Bring treats and a squeaky toy; it's perfect for getting their ears to perk up and their eyes to look at the camera," says Danielle.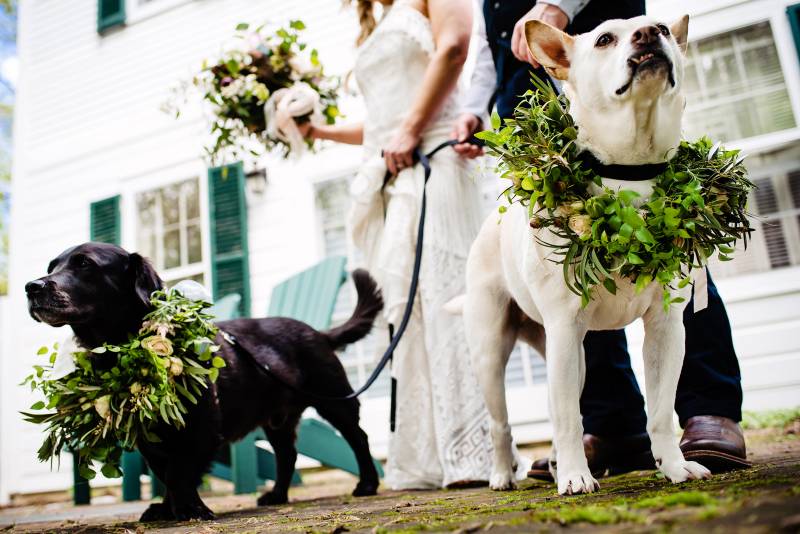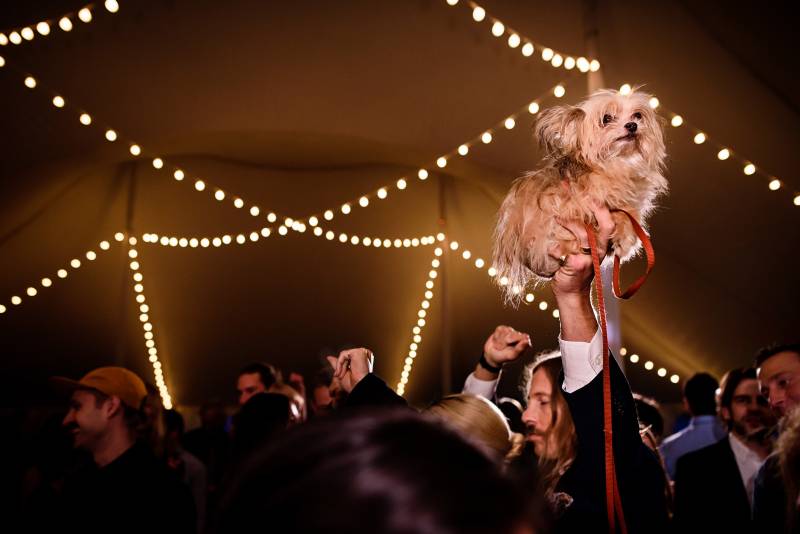 Here's to hoping you have a doggone good time with your furry friend on your wedding day!