Have you ever looked at a bouquet and thought: I love that...what the heck is it?!
"After speaking with many wedding couples, I realized people are often unsure about flowers," says wedding florist Emily of Tipsy Tulip Designs. "I love talking about flowers and educating clients. I want the couple to feel confident in their knowledge so we can truly make their wedding dreams come true!"
Emily got her start in floral design as a bride herself. "My husband and I planned a very intimate wedding with ten of our closest friends and family. Due to the remoteness of the location and the short amount of time we had to plan, we couldn't find a florist," explains Emily. "I loved gardening and arranging flowers at home, so I decided to try making my own wedding flowers. I got a ton of compliments, and a friend asked if I would do her wedding flowers. From there, things took off!"
Today, Emily and her husband run Tipsy Tulip out of their home studio in Milton, Vermont. To help couples learn more about their floral options, she started a #bouquetbreakdown series on her blog, and today she's sharing the lowdown on two popular bouquets with Vermont Weddings.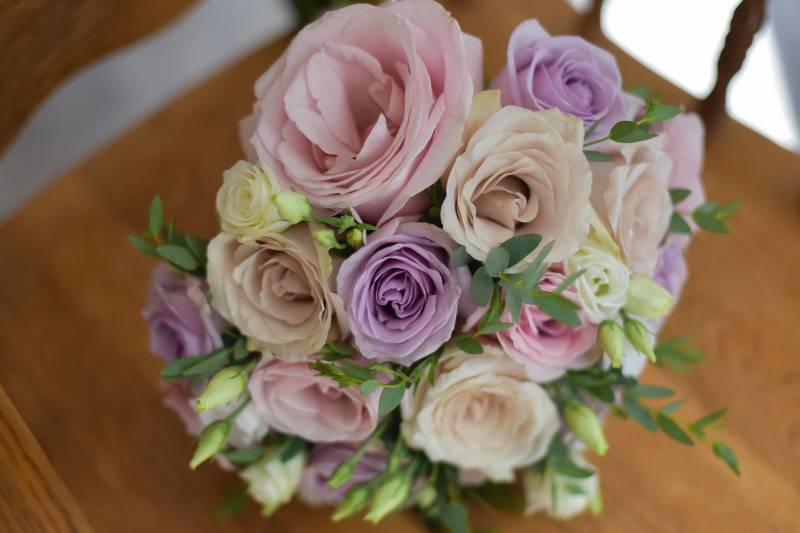 The Alyssa Bouquet
The first bouquet we're breaking down at is "The Alyssa," an elegant and timeless design. "We can adjust the roses to match any wedding color, and include additional pops of greenery for more drama," says Emily.
Flowers in this Bouquet:
Quicksand Roses: Emily says these might be the most sought after wedding roses right now. Quicksand Roses are nude or dusty champagne color with a hint of pale pink. They compliment any color palette.
Availability: Year-round
Price: $$$ out of $$$$$
Secret Garden Roses: This bloom has a 100% bloom aperture, meaning it completely opens up, exposing a stunning peachy yellow core. The dusty light pink petals are a great match for light mauve bridesmaid dresses. If you can't find Secret Garden Roses, other great options are the Menta Rose or the Faith Rose.
Availability: Year-round
Price: $$ out of $$$$$
Blue Manhattan Roses: These standard roses come in a stunning lavender shade. They have a large bloom size, and if allowed, will open up to a 100% bloom aperture. These roses are typically imported from Columbia. Some great alternatives are Ocean Song, Moody Blues, and Avant Garde Roses.
Availability: Year-round
Price: $$ out of $$$$$
White Lisianthus: Emily says, "This is one of our best-kept secrets when it comes to wedding flowers!" Available in a huge spectrum of colors, they're reminiscent of Spray Roses.
Availability: Year-round
Price: $$$ out of $$$$$
Parvifolia Eucalyptus: The elliptical shaped leaves of this eucalyptus offer a dainty and feminine touch to the bouquet, with a light green pop.
Availability: Year-round
Price: $$$ out of $$$$$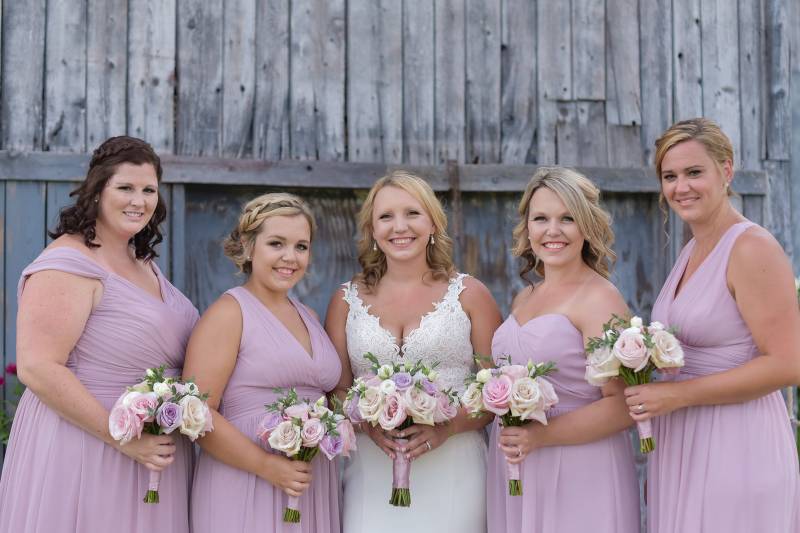 "The Alyssa" is the perfect inspiration for a bride looking for an elegant, timeliness bouquet that can be further customized to her colors and style. "This is the kind of bouquet that you'll look back at 30 years from now and think 'Wow! I'm so glad I picked such a classic bouquet!'" says Emily.
What if you're looking for something a bit funkier? That's where our next bouquet comes in!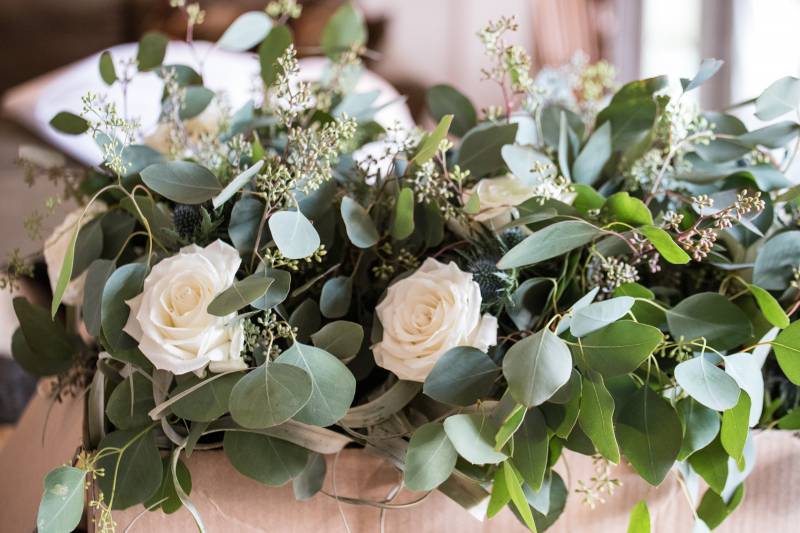 The Nikki Bouquet
The second bouquet we're looking at is sure to turn heads. To create this boho design, Emily constructed a special chicken wire cage to support the centerpiece: a giant air plant! This bouquet is a great inspiration for a bride looking for a unique bouquet design.
Flowers in This Bouquet
Tillandsia Xerographica: Nicknamed the "Queen of air plants," this plant has become more popular in bouquets over the last couple of years. "Once the other traditional blooms have faded, you can pop this out, and have it live on as a special memory of your wedding day," says Emily. "The air plant simply requires high light conditions and a good 20-30 minute soak upside down in water every week or so."
Availability: Year-round

Price: $$$$$ out of $$$$$
White Ranunculus: Ranunculus are available in a rainbow of colors and are hardy out of water. In this bouquet, they offer textural difference to contrast against the white roses.
Availability: Year-round

Price: $$$ out of $$$$$
Playa Blanca Roses: "95% of the time you see a white rose in one of our bouquets it's a Playa Blanca," laughs Emily. These pure white roses open wide, and have a Garden Rose feel to them, even though they are technically a Standard Rose.
Availability: Year-round

Price: $$$ out of $$$$$
Blue Thistle: This flower adds a unique textural element to a bouquet with sharp lines. "If you're thinking you want something blue for your wedding day, this is our go-to!" says Emily.
Availability: Year-round

Price: $$ out of $$$$$
Silver Dollar Eucalyptus: A perennial wedding favorite, this greenery has stunning silvery sage-colored leaves.
Availability: Almost year-round (off crop for a short stint in the spring)

Price: $$$ out of $$$$$
Seeded Eucalyptus: This eucalyptus provides an all-important texture element; the tiny seeds give the bouquet added dimension and interest.
Availability: Almost year-round (off crop in the early spring)

Price: $$$ out of $$$$$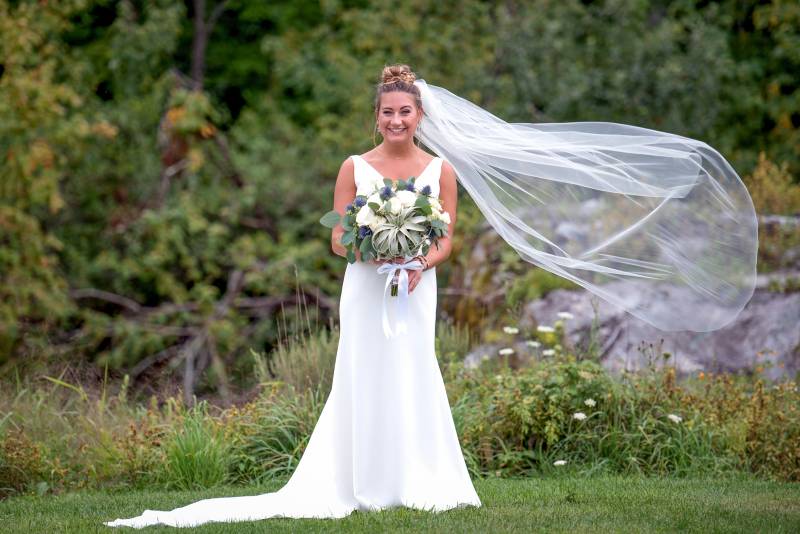 This bouquet is a showstopper, and I love the idea that you can keep the air plant as a keepsake from your wedding day.
Thank you, Emily! Learn more about Tipsy Tulip Designs in the vendor guide, and visit her blog to see more bouquet breakdowns.