Eric and Bobbi were married at The Vermont Wedding Barn at Champlain Valley Alpacas on July 21, 2018, overlooking the beautiful views of the Adirondack Mountains.
Planning for the proposal months in advance, Eric asked both his kids and Bobbi's kids along with her parents for all of their blessings. While on their annual trip at Laconia Bike Week, Eric brought Bobbi to the beach in York, Maine to reminisce about their first trip to this beach and how their love has blossomed over the years. And then all of a sudden, "He then knelt on one knee and asked me to marry him!"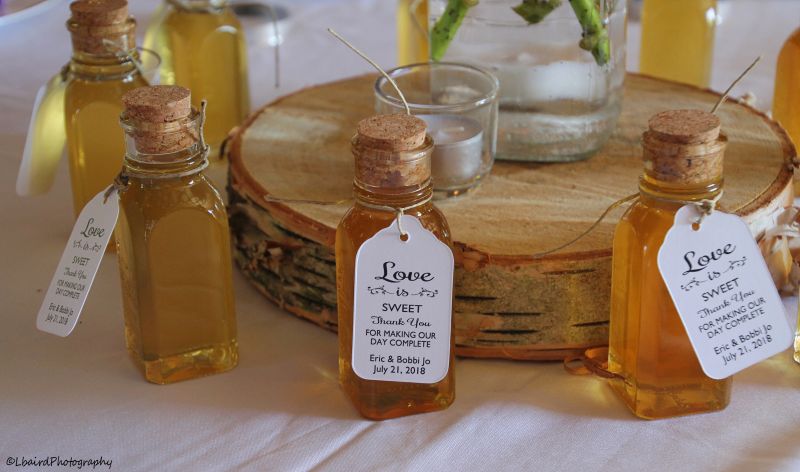 The couple loves antiques and enjoys living a simple life; they wanted to incorporate both into their wedding. The inspiration for all the DIY elements came from the colors of hydrangeas and the romance of lace. Bobbi put her own personal touches on all the decorations in the barn including the wedding cake display, the card collector mailbox, and the handmade signs for the flower girls and the bar!
The Vermont Wedding Barn's views of the Adirondack Mountains was perfect for Eric and Bobbi. They love to ride motorcycles in the Green Mountains. The location provided an area where friends and family could stay and camp and the couple were able to have "the ceremony and wedding reception all in one location". Bobbi and Eric spent their wedding night at the Pool Cottage Retreat located on the property which is steps away from the terrace overlooking an alpaca paddock. Alpacas? Yes, The Vermont Wedding Barn is located on a real live working alpaca farm!
Their engagement started with their trip to Laconia Bike Week, it was only fitting for portraits with Eric's bike!
Advice Eric and Bobbi would give to those looking to plan a wedding in Vermont would be to, "Buy things in advance and your wedding won't feel so overwhelming!"
Thank you to Lbaird Photography for sharing Bobbi and Eric's wedding with us. As certified photographers, Laurie and her daughter is the duo behind the lenses to shoot their clients' wedding day. Their approach is natural while providing a comfortable setting that allows everyone to really be themselves. They are passionate, patient, and super fun photographers who will capture both formal and candid moments of your day.