Contemporary hand-fasting is a lovely return of a traditional wedding element from ancient Celtic culture. It involves taking cords and wrapping them around the couple's hands then tying a knot. Modern American couples with a deep connection to the natural world, especially couples of Pagan faith, like the symbolism of connect their lives together.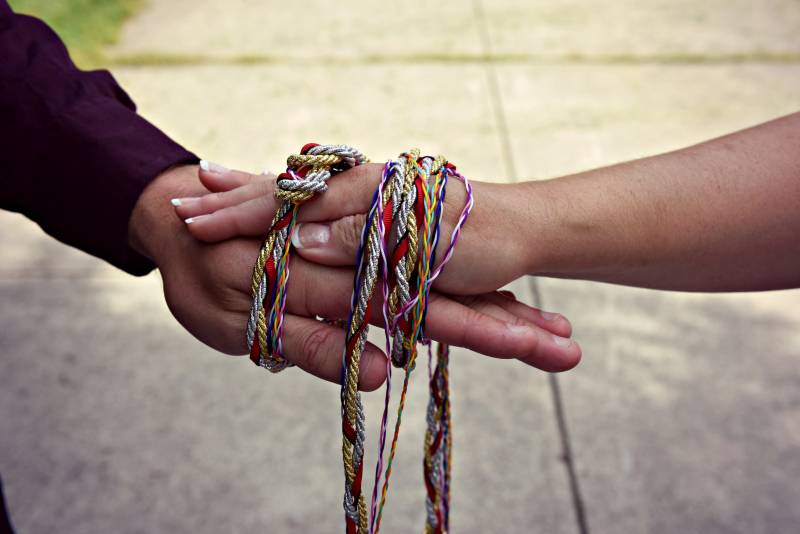 The hand-fasting cord can be constructed with as many smaller cords as the couples wants. The term "cord" can mean ribbons, leather strips, or ropes. Each small cord represents a different value the couple promises to honor during their marriage. The officiant describes the symbolism of each cord to make sure everyone attending the ceremony appreciates and knows its meaning.
Generally the smaller cords, that create the larger cord, are different colors and often include one or two charms in the middle or on the ends of the cords. The charms or metals represent the couple's heritage and spirituality, and can be reminders of the location or date of the wedding. Most charms are Celtic symbols. However, couples can include whatever is meaningful to them. For example, an engraved image of the mountain they hiked when they first dated.
No matter how your hand-fasting cord is designed, if it is more than three small cords it needs to be connected at its mid-point to keep it organized and manageable. If the couple is going with two cords only then they can just be knotted together during the ceremony. A "fisherman's" knot is commonly used by couples who love to sail, while a "bend" knot is popular among couples who rock climb in Vermont. If you are wondering as you read this article if the expression "tying the knot" was inspired by hand-fasting, the answer is yes!
The person or people who weave the cords to form the knot during the ceremony are selected by the couple. An officiant, like myself, can guide the process and even tie the knot for elopements. For weddings with guests, the officiant can invite members of the couple's family to tie the knot. If the couple has mature children, this can be a nice way to include them in the ceremony. Once the knot is loosely formed, the couple pulls the cords while sliding out their hands, leaving only a knot.
After the ceremony, I recommend couples have a special box to hold their cherished marriage knot. It is nice if it has a glass window for viewing. Couples that have written their own vows will sometimes include the vows underneath the knot in the box.
If you are planning to marry in Vermont and would like to explore hand-fasting as a feature in your wedding, please contact Carmen George for more information.